Top 7 Best Skateboard For Beginners In 2019
Skateboarding is one of the most popular and innovative sports practiced on the street around the world, it is very popular among young and adults too.
But we may find young people practicing it more because it is a sport that needs adventure and risk.
So You're just looking for the best skateboard for beginners to buy, but you have no idea where to start.
This is how I felt when I was first looking to buy my first complete skateboard many years ago.
What is The Best Skateboard For Beginners?
You are a new skateboarder and you are unsure about what beginner skateboard you should buy?
I know that when it comes to the search for the best skateboard for beginners it can be a total headache.
so to reduce that I'm going to help you with some useful tips on what to look for when you decide to buy your first skateboard and how to find good skateboards for beginners.
Recommended Skateboards For Beginners
Powell Golden Dragon Flying Dragon
The golden dragon from Powell-Peralta is one of the top skateboards for beginners and advanced riders too.
Its 7.625 inches Width and 31″ long, which is regular skateboard size.
It has a very unique design, and the quality of this skateboard is really good and the durability too.
It comes with all the tools and also a carry bag.
Great quality and awesome design
Trucks and wheels are of good quality
How To Choose Your First Skateboard
We're going to go over the various part of a skateboard.
I'm going to talk about some different ideas you may or may not have or maybe just give you some of my ideas to help you how to choose a skateboard.
The basics of the skateboard are the width and length and the graphic.
in terms of the graphics, you should go to a skate shop and choose the graphic that you like or you can get your board online.
the main thing that you gonna be looking at when you trying to purchasing a new or your first skateboard is how wide is that skateboard.
is 7.5 inches or 7.3 inches wide…
For example:
if you have a 10 size shoe you should skate on an 8-inch board, but it's your personal preference some people like a wider board and other like a skinnier board.
the skinnier board will flip faster, and a wider board gonna flip slower but at the same time a wider board is easy to land on.
Best Skateboard Size For Beginners
Image Source: warehouseskateboards
so you're gonna have to try out different boards on your own and figure out the size you like the best.
the next thing to check out is the wheels, you can start with 52 millimeters they are big enough and not too small.
so let's say that we have a 7.5 inches board with 52 millimeters wheels and trucks whatever color you like I actually prefer the gray one.
The most importing thing that to understand about trucks are that you need to have the trucks that fit the size of the board.
If you held your truck up to the board and it was sticking out like an inch or whatever that truck is too wide for the board and that's gonna make it difficult when you go to do a kickflip.
Now you need a thing that holds the truck to the board which is the hardware ( it's simply a little bolt they go throw your board).
I think generally when you buying your first skateboard either you go to your local skate shop or simply just buy it online.
You don't want to go to Walmart and get a really cheap skateboard, it's just gonna be much harder for you to learn on.
A nice board with good wood, good solvent trucks, proper wheels, good fangs, good hardware it's going to be easier for you to learn tricks on.
My advice for you is you should start out with the best board that you can get with the price that you can pay, it's gonna make you actually skate longer because you're gonna learn the tricks that you want to.
You can go to your local skate shop and you can look at the wall and there's gonna be hundreds of boards there and you're gonna get maybe a little bit overwhelmed like which one do I choose?
The basics that you have to understand is you're just basically looking for the width, get the width that you gonna to feel comfortable with.
Concerning the bearings (metals pieces that go inside the wheels then go on to the truck)
There is a different price between the standard bearings and the faster ceramic ones if it's your first skateboard you can go ahead and buy whichever bangs but definitely the ceramics ones are gonna be faster and they are probably going to last you a bit longer.
The grip tape:
The grip tape should be really coarse and very grippy, it does tear your shoes up and that is part of skateboarding.
I like it coarser because when you go to drag your foot and do that Ollie the more coarse the more grip the more your foot is sticking to the board
so this is how it's gonna work you're gonna get your board and remember the main thing is the width, I recommend for most beginners to just get an 8, that's a pretty regular size that you're gonna be totally fine with.
Here is a video to how to set up your first skateboard
Best Skateboard For beginners
We have spent hours on the internet searching and looking for the best skateboards for beginners that are available on the market.
so if you are looking for what is a good skateboard for beginners and you decide to buy it online these might be a good choice for you.
Please read carefully our in-depth guide where we going to review the best and top skateboards for beginners
Powell Golden Dragon Flying Dragon Review
The golden dragon from Powell-Peralta is perfect for beginners and advanced riders too.
Its 7.625 inches Width and 31″ long, which is regular skateboard size
The bearings are pretty good and the wheels roll smoothly.
The wheels this board ships with are 99a Durometer (they are harder wheels which is better for doing tricks and they roll faster)
The trucks are set perfectly and they are impressive for the price
The deck is pretty standard and the design (dragon graphic) looks great and very appealing.
For the price, the value here is hard to beat, The Powell Golden Dragon is priced very well. It's perfect for beginners.
It's made with 7-ply hard rock maple cold pressed into 32×8-inch deck, Max support weight 220 lbs.
It 5-Inch trucks that are casted by genuine aluminum alloy, equipped with carbon steel kingpin and 78A high rebound PU bushing.
Great quality and awesome design.
Trucks and wheels are of good quality.
It has a mild concave, very good pop from the start.
The bearings are fantastic, they rolled fine.
It does not have a pro level flex, but enough for a skateboard beginner.
It's a sturdy board that can really take the wear and tear of riding.
ENJOI Skateboards WHITEY
If you love assembling your board by yourself this one may be a great one for you because it arrives un-assembled, which allows for customization and a feeling of accomplishment.
The wheels are nice and smooth
The bearings are average
The trucks are nice and sturdy, but the bushings are kinda weak.
The board is authentic and of good dimensions.
The deck has a nice simple Enjoi logo and is durable,
It comes with the grip tape and all necessary bolts and nuts.
KPC Pro Skateboard Review
This is a Complete Pro Skateboard, Which Comes Fully Assembled. It's a Canadian Maple Construction with a 7.75-Inch Deck and white 52mm Wheels.
It comes with metal trucks, and it had a great design. (trucks and wheels are VERY SLOW)
The board's deck has a real POP to it that makes it awesome beginner board and good to learn tricks
and don't have a weight limit set in stone, but we usually recommend somewhere between 180-200lbs
Overall: This is a good board for a BEGINNER skateboarder. But not great for long-term use in a skate park
RockBirds Skateboards 31" Pro
Rockbirds 31" Complete Pro Skateboard can endure the weight up to 200 kg which is insane!
It has a very unique design, and the quality of this skateboard is really good and the durability too. and It comes with all the tools and also a carry bag.
The bearings aren't great, but they work for a beginner
It has great wheels, and the top of the board has a lot of grips to make you feel safe when cruising.
Overall: ideal for street skateboarding and downhill boarding.
Krown Rookie Complete Skateboard
Its Canadian Maple wood measures approximately 7.5 inches wide by 31.5 inches long, which is a very good beginner board includes black grip tape on top, and it comes with ABEC 5 bearings and it's fully assembled.
It can hold about 220lbs with proper use.
If you're looking for something to freestyle, something to cruise, do some downhill, and maybe even use to commute at college then this is the perfect one for you.
This is a really great starter board and it's fun to ride, It takes you where you need to go in a decent amount of time.
The board is extremely sturdy and it's very smooth and maneuverable, and also a great long-term board.
The Wheels are good quality
So with all these different types of boards what is the best ones for beginners?
well! that depends on what you want to begin doing if you just want to use them as transportation all these boards work for that they all have wheels and they can get you from one spot to another.
and if your main focus is to start doing tricks a regular skateboard is probably the obvious choice
so which one should you get my answer is getting the one that you're going to have the most fun with
get the board that aligns what you need out of a board.
How to keep your skateboard in better shape and make it last longer
If You want your board to be stronger and look nice here is 4 ways to do that:
Tail scraping
The first thing is tail scraping a lot of people do this and it's the sort of thing that people use it to like break on their skateboard, well you footage is your break and don't slide your foot either on the ground but do stomps on the ground, slow yourself down
do not use your tail that is going to give you what they call razor tail it's going to be really thin and ship easier your tail, in general, will be a little less strong
it's a terrible habit to get into even a lot people when they rolling up the gaps and they are not ready to try it they do that to slow down, don't do that!
Throwing your board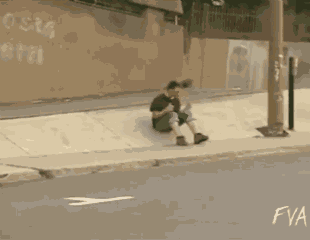 Image Source: Gifer
don't be that dude!
when you try and sit for an hour and you suck it's hard to control your anger and you're going to want to throw your board but don't throw it!
Avoid dirty skate spot
You don't want dirt or dust in your bearings you don't want them to get wet because it just makes your board less effective
Take care of your grip tape
this is more of a mental thing because your grip tape is dusty and dirty you start to think your board in a worse condition so you might have a great deck.
but if you see a crappy looking piece of grip tape that's dirty, mentally you're going to be like all my board going junky and you're not going to take good care of it.
Summary
Reviewer
Review Date
Reviewed Item
Author Rating